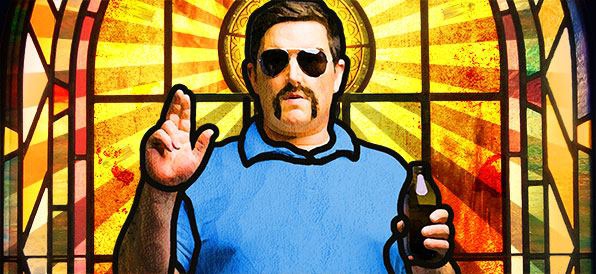 Heath Franklin's Chopper - Bogan Jesus
Aurora Centre
Thu May 31st 2018 at 08:00
---
Christchurch
,

Cnr Memorial Avenue & Greers Road Burnside

,

Christchurch

Christchurch
https://www.myguidechristchurch.com/events/heath-franklins-chopper-bogan-jesus
BOOK NOW
Event Details
There's a new 'mo-ssiah' for a new age and he's holier than Oscar Pistorius' bathroom door.

In the beginning, God created the moustache… and it was good. Then he took the next 6 days off, because once you've nailed it, treat yourself to a lie-down.

The world has had religion ever since God was in nappies, and what have we got to show for it: wars, terrorist attacks, and Christian rock. It's time religion took a hard look at itself, so Chopper is starting his own one, in his own image, and giving hell to the almighty.

Are you sick, lonely, or poor? Well, there are plenty of other churches for you. Chopper is looking for rich idiots to tithe the crap out of; but really, any sinner will do.

Thou shalt harden up and become a Chopostle! So gather round, and be healed by Bogan Jesus!