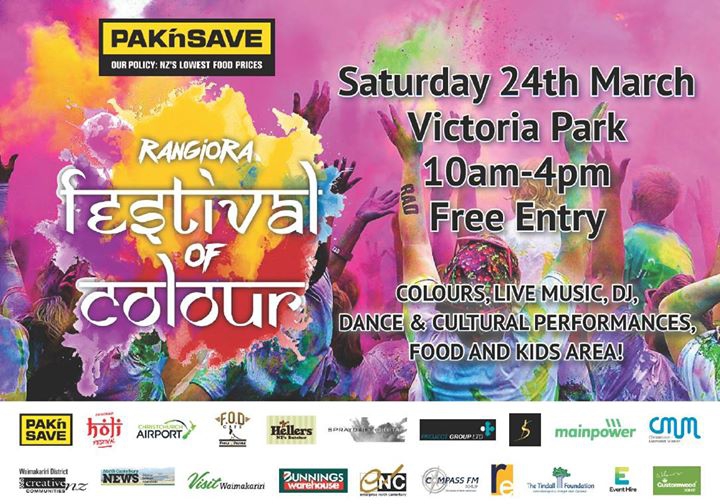 Event Details
The Rangiora Festival of Colour 2018 will be held on 24th March 2018, 10am – 4pm, at Victoria Park in central Rangiora.

It is based on a traditional Indian festival that is celebrated worldwide. People throw vibrant colours, play traditional games and enjoy performances, music and food with family and friends. Festival of Colour 2018 will focus on bringing life and colour to Rangiora town and celebrating its diversity and energy!

The festival is all about bringing the community together! The first Christchurch event in 2014 was very successful in doing this and has now grown to an estimated 12,000 attending the 2018 festival in Hagley park. We are eagerly looking forward to bringing this event to Rangiora on the 24th March in Victoria Park and we know with the combination of the Revel event team and a local Rangiora Partner (the people behind the Winter festival) it will be a huge success in north Canterbury as well.

We expect an initial crowd of between 3,000-3,500. Our intention is to provide an exciting community festival that reflects the multicultural nature of our North Canterbury home. It will provide opportunities for the many ethnic and cultural groups in the area to make a connection with the wider community through food, music, performance in an exciting and fun way!

Importantly here is currently no large-scale festival or event in the region that has a multi-cultural focus. A partnership has been formed between Karl Horwarth (Festival Director, Trustee and originator of the Rangiora Winter Festival) and Revel Events (Event Organisers from Christchurch responsible for many events including the upcoming CCC funded Street Party as well as originators of the Christchurch Festival of Colours). With this partnership, the Rangiora Festival has invaluable access to 3 years of previous event organisation around this type of festival.

Festival Philosophy: The Festival will address the lack of any large-scale event that celebrates the multi-cultural nature of our rapidly growing North Canterbury population. We seek to recognise and celebrate not only the strong Maori and European heritage of the region but the increasing growth of 'other' New Zealanders as well.
To this end we will be working very strongly with established groups such as Ngai Tahu, but also with the Waimakariri Migrants and Newcomers group and others. The Christchurch Festival of Colours has been very successful in combining the talents of Dance & Performance groups from many of the 170 ethnic groups living in the region and we will build upon their work. A highlight will be to work with the groups on presenting 'fusion' style performances - for example Kapa Haka and Indian Dance, Irish Dancers and African Drumming. There will not only be music and dance performances but cultural groups will be encouraged to take advantage of the Festivals offer of free information stands at the festival to allow them the opportunity to reach out to festival goers with information, pamphlets, discussion groups etc.

Local schools will also be invited to perform at the Festival. We hope to provide a prize from sponsorship funds to the winner that can be utilised by the schools Music and Art departments.

We will also be working with local artists to create an exciting art competition for the regions schools. This is also a successful aspect of the Christchurch Festival and we are extremely excited to be able to bring this to the Rangiora Festival of Colours. Works of art from local artists are given to local schools so they can 'reinterpret' and enter their creations in a competition as part of the Festival.