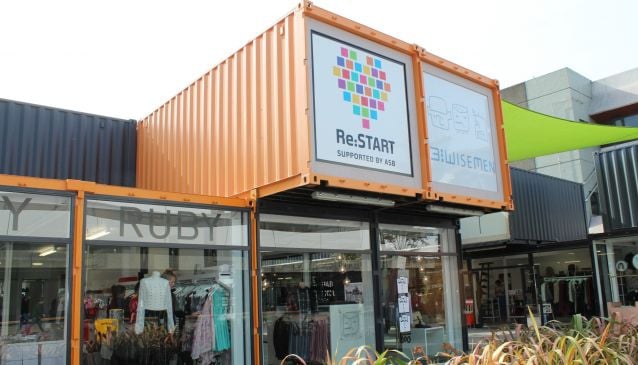 A Foodie Visit To Re:Start Mall
Editorial Food & Drink
Food, as I am soon to find out, is a major drawcard of RE:Start Mall
I reach RE:Start Mall bang on 12 noon. The 15 minute walk to Cashel Street from my hotel near Hagley Park has given me an appetite, so I'm keen to try some of the food on offer at this Christchurch attraction.
Entering the former Red Zone isn't a hassle these days but if you weren't aware there'd been an earthquake you'd think you'd walked into a ghost town. There's an eerie quiet in Cathedral Square, underlined by the lack of people and the crumbling monument of the church that stands forlornly waiting for its fate to be decided.
Nearby Cashel Street was part of the pedestrianised City Mall area demolished after the Canterbury earthquakes in September 2010 and February 2011. Today, though, in a city centre full of construction noise and abandoned buildings, RE:Start Mall has become the heart of the city.
Opened in October 2011, it was quick thinking of behalf of the Property and Building Owners group who knew rebuilding Christchurch was going to be a mammoth job. Shipping containers were the chosen medium for the temporary mall to housing local retailers who needed a physical location in order to remain afloat.
A good example is Johnson's Grocery, an iconic Christchurch store selling all manner of international food stuffs that's been around since 1911 and which was situated in Colombo Street.
The original store has since been demolished but has reappeared in RE:Start and is still going strong. I remember visiting Johnson's before the earthquake and being amazed by the sheer amount of exotic fare on offer. At Johnson's you can buy anything from Scottish Haggis and Foie Gras, to Yorkshire Tea and Italian Nougat.
Food, as I am soon to find out, is a major drawcard of RE:Start Mall. Although it has over 50 businesses, including fashion, homewares, souvenirs and services, it's the food outlets that hold the most fascination for me. There's something of a carnival atmosphere, though the food places are not stalls as such, but each have their own container or a portable caravan.
After doing a loop of the two courtyard areas, 'north court' and 'south court' I settle on a Base Woodfired Pizza, the lunch sized one for $10. The container has been decked out with a brick facade, which gives it a solid appearance, and because you can actually see the oven cooking fresh pizza's in the background there's an on-the-spot authenticity about the whole set-up. (Apparently the oven is cranked to 400°C to keep up with the demand.)
I order the 'King Pizza' which is one of the modest concoctions, there's a whole range of options but I'm a sucker for ham, pineapple and mozzarella. The Tomato & Capsicum sauce gives it a yummy sweetness, so before I know it I've demolished the whole thing.
Strangely enough I still have some room to sample another outlet. So I head off to what seems to be an Asian corner, with sushi, dumplings and noodles on offer; with tacos and lebanese thrown in for good measure.
In general there's a surprising amount of international fare on offer at RE:Start Mall. In my initial scout around I spotted Greek souvlaki, German bratwurst sausages, European pastries and breads and a French rotisserie.
The mall is definitely getting busier so I queue up to get some dumplings which look like they're being made fresh to order on-site. I go for vegetarian but there's also pork, beef, chicken and lamb. Six dumplings cost $7 and a family-sized dish of 12 dumplings costs $12. In fact while I'm waiting for my order, I notice there's a whole range of people hanging out at RE:Start, not just families but groups of friends, couples, singles; it's definitely the go-to place on a Saturday to meet up with people and have a bite to eat.
My dumplings arrive and they are delicious morsels of mushroom, carrot and tofu; I dig in like everyone else is doing. Who said you can only get good Asian food in Auckland? I beg to differ.
After the dumplings my stomach is reaching its limit but I'm keen to try a fresh fruit smoothie from the place that I spotted along from the woodfired pizzas. At $8 my banana, strawberry and apple smoothie ain't cheap but there's a whole heap of different combinations you can have and again they're made right in front of you from fresh ingredients.
If you're wondering what else you can do after you've had lunch at RE:Start Mall, there are a few options. There are lots of fashion outlets concentrated in one place at the container mall, so you can get through quite a few in one go. Some of outlets include: Kathmandu, LuluLemon, Storm and Ruby. The original Ballantynes is also right next to the mall and even has a hang out corner for the men to watch sport while the womenfolk shop.
Quake City run by the Canterbury Museum is right next to RE:Start Mall and offers an interactive and educational experience about the Canterbury earthquakes. Go for a walk around the Red Zone and you'll see many murals prettying up the concrete and memorials, as well as projects underway like Greening the Rubble, an organisation which has started building temporary parks on cleared sites.
Christchurch Central is quite a large area to get around, especially if you have children, so you might like to do a tram tour of the city departing from Cathedral Square.
Written by:
Christine Berry
PUBLISHED: Sep 16th 2016 | UPDATED: Jul 11th 2017