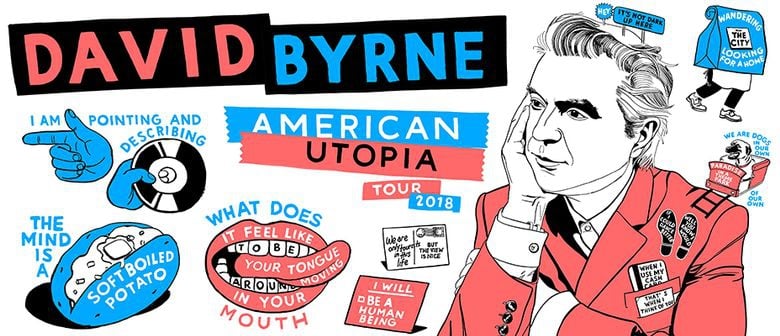 David Byrne - American Utopia NZ Tour
David Byrne - American Utopia NZ Tour
Thu Nov 15th 2018 at 07:00
---
55 Jack Hinton Drive

,

Addington

,

Christchurch

,

Christchurch City
https://www.myguidechristchurch.com/events/david-byrne-american-utopia-nz-tour
---
Horncastle Arena
MAKE ENQUIRY
BOOK NOW
Event Details
Frontier Touring is thrilled to announce that David Byrne – Talking Heads bandleader, solo artist, visual artist and author – will bring his American Utopia World Tour to New Zealand and Australia in November 2018.
The NYC-based artist will perform songs from his acclaimed new album American Utopia as well as classics from his solo career and his days with Talking Heads. A 12-piece band will join Byrne on stage for an Annie-B Parson choreographed concert that he has called "the most ambitious show I've done since the shows that were filmed for Stop Making Sense."
Annie-B Parson also choreographed the St. Vincent and David Byrne collaboration tour around Love This Giant. For NZ fans, it will be Byrne's first tour of the country since 2009.
'One of the most inspired, intriguing, energetic and joyful concerts in recent memory. To call it unique hardly does it justice.' – The Calgary Herald

'It's honestly hard to believe the amazingness of David Byrne's live show… Byrne radiates a joy while performing that few – if any – musicians can match.' – Seattle Weekly

'Already the toast of Coachella, Byrne's new roadshow was a knockout.' – David Fricke, Rolling Stone
'Decades into his career, David Byrne remains an unpredictable, vital artist. There aren't many who can say that.' – LA Weekly
'A marvel of staging and motion that was at once utterly novel and oddly comforting, the evening proved a celebration of Byrne's music at its most rhythmic and transcendent.' – Chicago Tribune
With his sets including a wealth of Talking Heads tracks such as 'Once In A Lifetime', 'Burning Down The House', 'This Must Be The Place', plus Byrne's latest stunning new solo work, his collaboration with St Vincent and more, these shows will be unmissable.
His first solo album in 14 years (following 2004's Grown Backwards), American Utopia was released in March 2018 via Todomundo/Nonesuch Records. The first track from the album, 'Everybody's Coming To My House', was co-written with Brian Eno and contributions from TTY, Happa, Isaiah Barr (leader of the Onyx Collective), Daniel Lopatin (Oneohtrix Point Never), Mercury Prize winner Sampha, and others feature throughout the release. Byrne has just released latest single 'Every Day Is A Miracle', also written with Eno.

"I've made a record that just has my name on it but is also the result of the contributions of many other people," says Byrne. "I suspect that like me, it is asking what are we like, what do we want, and what are we looking for?"
American Utopia debuted at #1 on the Top Album Chart in the US, the highest chart position of his career, as well as at #1 on the Canadian album charts, plus Top 20 in the UK and Ireland.
The career chart highs were repeated across Europe, including in Austria, Belgium, Czech Republic, Germany, Italy, Netherlands, Portugal, and Switzerland, amongst others.

'Byrne is a profile in American reinvention – it's here a kind of alien found a band, an audience and a home.' – The New York Times
'His best record in years. His creative fires still show no sign of dimming, Byrne remains as playful and brilliant as ever.' – Q Magazine
David Byrne is a Scottish-born, American artist, and one of the defining names in modern music. The American Utopia World Tour is simply not to be missed. Tickets are on sale Monday 18 June.