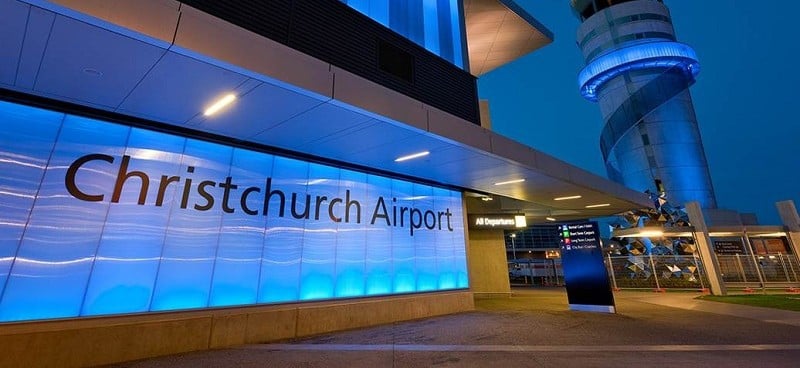 Christchurch Airport
Christchurch International Airport is situated 12 kilometres from Christchurch city centre and, subject to traffic, should take about 45 minutes by car. International flights serve the Australian destinations of Sydney, the Gold Coast, Brisbane and Melbourne.

In addition, international flights are managed from Singapore, Seoul, Fiji and Rarotonga. Domestic flights are operated by Air New Zealand, Jetstar and Pacific Blue.

Car Rentals
The usual suspects are located in both International and Domestic terminals. Avis, Hertz, Europcar, Thrifty and Budget can be booked along with Campervan rentals from Maui, Backpacker and Britz.
Taxi and Shuttle
Various taxi companies are available costing about $30-$50 for a trip to the city centre. A 20-30 minute shuttle offering door-to-door service to all parts of Christchurch is available from various companies. A typical fare costs about $15 - $20 per person. Cost reduces for two or more passengers travelling together.
Buses
An adult single fare costs $7 and takes about half an hour. There are three public bus routes departing from the airport to the city centre.
The Airport Flyer leaves every 30 minutes (Mondays to Fridays) and is the most direct. On Saturday and Sunday it leaves hourly from 7.30am to 10.30am then every 30 minutes from 11am to 4.30pm and hourly again from 5pm.

The number 10 bus, Harewood to Cashmere, takes between 30 and 40 minutes to the city centre.

The number 3 bus, Airport-Sumner, also takes 30 to 40 minutes to the city centre.
All coaches picking up or dropping off domestic and international passengers use the Coach Park located at the end of the International Arrivals Hall.
Parking
A drop off and pick up zone (no parking) is available on the ground floor of the multi-level car park. The short-term car park offers 30 minutes of free parking while there's a 15 minute free parking zone on the ground floor of the multi-level car park building.