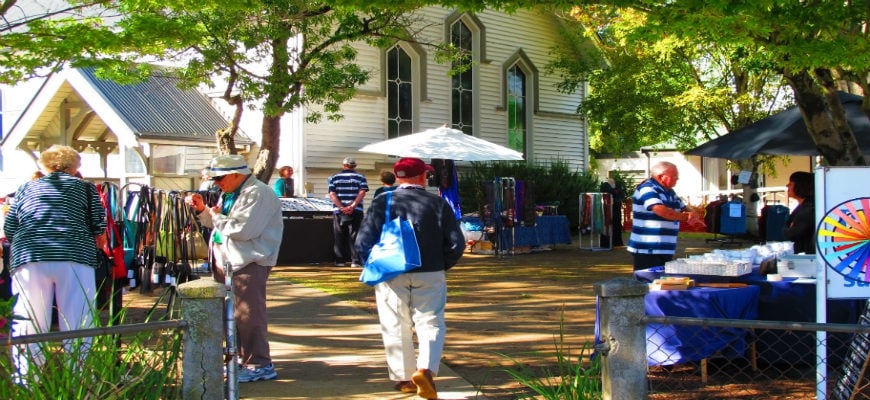 Christchurch Weekly Markets
Christchurch Farmers' Market

Held every Saturday from 9.00am until midday in the stunning grounds of Riccarton House, the Christchurch Farmers' Market showcases the very best produce from the local suppliers. This is your chance to support local growers, butchers, bakers, wine producers and brewers.

Lyttelton Farmers Market

Every Saturday the Lyttelton Farmers' Market kicks off at 10.00am, closing at 1.00pm. Drive through the country's longest tunnel and head to 24 Oxford Street in the port town of Lyttelton. Lively music from local talent accompany the fresh produce on display. Once you've finished shopping for those freshly cooked treats you can explore the pretty town. The market is a short stroll from the ferry terminal and can be easily reached by catching the number 28 and 35 buses which stop right outside.
Mount Pleasant Farmers' Market
Saturday morning market held in the Mount Pleasant Community Centre on 3 McCormacks Bay Road. Beginning at 8.30am and closing at 1.00pm, the Mount Pleasant Farmers' Market showcases local musicians while you browse the stalls that are selling a wide variety of local produce including Stewart Island smoked salmon, whitebait, venison, artisan breads, sweet delights and much more.

Sunday Artisan Market

This market is held on the beautiful grounds of Riccarton House and Bush and is a great way to shake off the cobwebs from Saturday night. Every Sunday from 10.00am until 2.00pm, the Artisan Market showcases handmade craft, local artwork, gourmet food, jewellery with local musicians and entertainment to create an enjoyable atmosphere.

Opawa Farmers' Market

Every Sunday on 275 Fifield Terrace, (right next to Rudolf Steiner School) the Opawa Farmers' market is held from 9.00am until 1.00pm. All the usual fresh produce treats you'd expect from a farmers' market along with a friendly and enjoyable buzz.

Akaroa Farmers' Market

The 90 minute drive east of Christchurch brings you to the fabulous harbour setting of Akaroa. This french influenced town has a farmers' market every Saturday from 9.30am until1.00pm. Centrally located in the Snuggle Inn car park, there's plenty of fresh fruits, vegetables, olives oils, herbs, flowers and plants and a whole bunch more on offer. Note - this market runs from Spring to Autumn.

Timaru Farmers' Market

Operating from Caroline Bay every Sunday from 10.00am until 12.30pm, the Timaru Farmers' Market is a chance to buy fresh produce direct from the local farmers and growers. Local buskers, fresh coffee and and a community spirit, it's a good way to support local businesses and enjoy the setting.

Waipara Valley Farmers' Market

Each Saturday, from 9.00am - 12.00pm, the Waipara market is held outside the Hurunui District Council Building on 66 Carters road in Amberley. Local growers from the region (between Waimakariri and Conway Rivers) come togther to showcase fresh breads, meats, fish, olive oils, fruit, vegtables and plenty more.