Lake Tekapo
Our guide to the popular water and stargazing activities of Lake Tekapo
Situated about 3 hours drive from Queenstown and Christchurch, the turquoise water of Lake Tekapo is a welcoming sight at the foot of the Southern Alps. The lake sprawls across 83 square kilometres, attracting visitors drawn by the setting and opportunities to enjoy a wide range of outdoor activities.
Along with salmon and trout fishing, the landscape lends itself to mountain biking, hiking, golf, scenic flights and snowsports.

Less than an hour's drive to Mount Cook, New Zealand's highest mountain, Lake Tekapo is the second-largest of three lakes in Mackenzie Basin, and just a 45 minute drive from Lake Pukaki and an hour's drive to Lake Ohau. The lake covers an area of 83 square kilometres.
The turquoise colour is created by glacier flour suspended in the water, formed from the Southern Alps Glaciers. The grinding of rocks in the ice that occurred with the glaciers' movement across the valley floor, created fine flour that was then carried by rivers flowing into Lake Tekapo.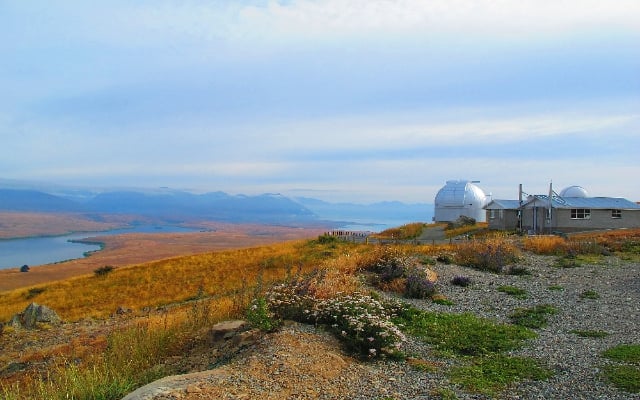 As day becomes night, Lake Tekapo offers the chance to appreciate some of the clearest, darkest and star-friendly skies on earth. Mount John, is an astronomical observatory, emphasising the region's increasing popularity as a centre for "Astro-Tourism".

The Church of the Good Shepard is a popular visitor stop and one that draws the tour buses. A much photographed building, the Church capitalises on its setting with an alter window that showcases the magnificent views of the mountains and Lake Tekapo.
Built in 1935, the church was designed by R.S.D Harman, a Christchurch architect who based the design on sketches created by Esther Hope, a local artist.

Lake Tekapo has an upmarket Peppers resort and a number of motel, B&B and self-catering options with many having views of the Lake. The small township also has a few good restaurants, cafes and general store.
If you want to pamper yourself in a hot pool, head to Tekapo Springs which is a gentle 15 minute walk from the town centre. Taking advantage of its lakeside setting, there are three hot pools plus enough other activities to keep the whole family entertained.