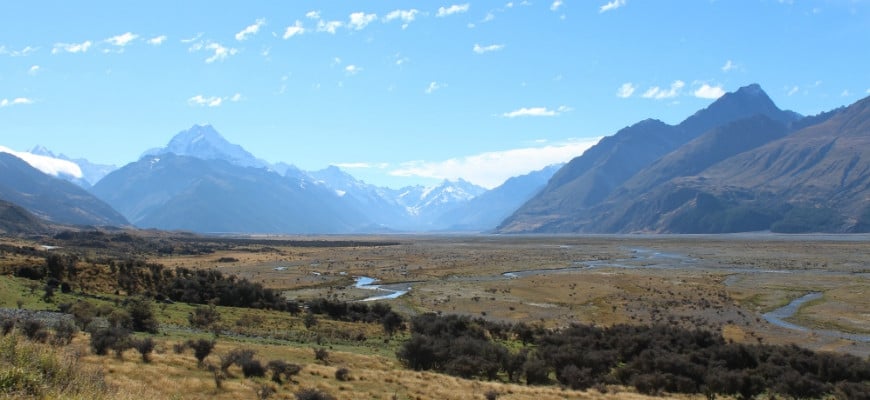 Mount Cook National Park
Home to all but one of New Zealand's 20 highest peaks, including the highest, and eponymous, Aoraki (Mount Cook), this national park is 700 square kilometres of predictably mountainous terrain and glaciers and, together with the neighbouring Westland Tai Poutini National Park, forms the Te Wahipounamu South Westland World Heritage Site.

The nearest town with access to the park is Aoraki/Mount Cook village itself, at the north end of Lake Pukaki, and has around half a dozen lodges, hostels, motels and a campsite for those planning to stay over (advisable, given the long journey to get here). There are also a couple of good restaurants including the Panaroma at The Hermitage Hotel plus several cafes and a couple of bars.
The village is popular with serious mountaineers, skiers and seasoned hikers, who love to leave civilisation behind and lose themselves in the peaks. Less-active visitors can take advantage of the many scenic flights offered around Aoraki/Mount Cook itself, without breaking a sweat.

40km south of Aoraki/Mount Cook village, at the opposite end of Lake Pukaki, is the larger town of Twizel, and many visitors to the park choose to stay here, simply because there's more to do and is easier to reach, being straight off the main SH-8.
If you're only planning a day's hiking along one of the gentler of the park's trails, then Twizel is probably the better base camp as it's a simple half hour drive north to the park proper. In Twizel, you can do more sedate activities like fishing, golf, kayaking and even frisbee golf, plus there are plenty more motels, hotels, and some great eateries such as the Top Hut Bar & Bistro, Shawty's and Charming Thai Restaurant.

Slightly further east, parallel to Lake Pukaki, is Lake Tekapo, famous for its vivid blue waters, and is where you'll find the Tekapo Springs Resort, with a day spa, hot thermal pools, skating and roller rinks, and a good cafe. Lake Tekapo township has an upmarket Peppers resort, plus a few very good restaurants and several motels and guesthouses.
Also at Lake Tekapo, at the base of Mount John, is an astronomical observatory, emphasising the region's increasing popularity as a centre for "Astro-Tourism", because it's here you'll find some of the clearest, darkest, star-friendly skies on earth.