Sumner
Eight miles southeast of Christchurch is the popular coastal town of Sumner. The town was named after a prominent member of Canterbury society, and was first settled by Europeans in the mid 19th century. It's Maori name, Ohikaparuparu, means "place of planting".
But it's from the town's settler roots, as a commuter town for those who were building the road between Christchurch and Lyttleton, that Sumner grew. It quickly gained a reputation as a holiday spot, and baths were built there as early as 1885. As soon as the settlement got its own electricity, in 1918, expansion was inevitable.

Being the first bay on the Banks Peninsula, Sumner enjoys superior surf and ocean exposure, and is surrounded by volcanic outcrops and underwater craters. The town enjoys a striking coastline of jagged cliffs and bluffs and because of its headland location, can experience stormy weather in winter. The Sumner sand bar creates hazardous conditions for both swimmers and ships.
The Esplanade is the main road lining the ocean and beach. It's a pleasant, tree-lined street, set back from the sea, with plenty of parking at both ends. Populated mainly with holiday apartments and private houses, there are a few bars and shops at the far western end.

At Cave Rock, you'll find cafes, bars and conveniences, and the whole place has a kind of Mediterranean feel, so expect it to be heaving during peak season. The beaches here are flat, with very fine sand, so you don't have to worry about painful pebbles underfoot.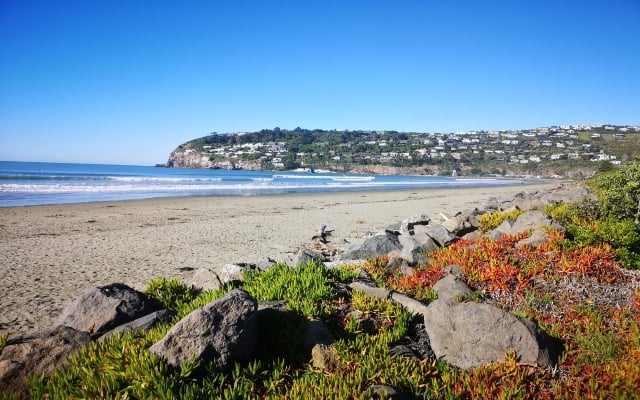 At the far eastern end of Sumner, is Godley Beach Park, containing many fine cliff walks. There's also good access to a few peaceful beaches, including Taylor's Mistake. Scarborough Park provides pleasant afternoon interludes, and is popular with families.
For Sunday brunch, try one of the many cafes, followed by a movie at the Hollywood Theatre on Marriner Street. The junction where Marriner Street meets Wakefield Avenue, is where you'll find most of the action in summer.
The Clock Tower, at one end of the Esplanade, is a good photo opportunity. Journey time from Christchurch is just 15 minutes, and it's easily accessible by both bus and car.