Top 10 Winter Activities in Canterbury
Hot List Inspiration Top 10
Our guide to the best winter activities around Christchurch and Canterbury , New Zealand
Our Top Experiences and Tours in Christchurch:
If youʻre booking your trip to Christchurch last minute, we have you covered. Below are some of the top tours and experiences!

Winter is a great time to visit the Canterbury region on the South Island of New Zealand. The snow capped alpine scenery, dominated by the iconic Southern Alps, the gorgeous lakes and the 'garden city' of Christchurch are a sight to behold during the snowy months.

We've put together our pick of the top 10 best activities to try on your next visit...

1. Skiing

Canterbury includes four main ski regions for skiers and snowboarders. Mount Hutt, Selwyn District, the Mount Cook Mackenzie Region and Hanmer Springs. If you're looking for something different, Heli ski operators can take you from Mount Cook Village to ski along New Zealand's longest glacier, the 29km Tasman Glacier. Check our

skiing guid

e for more info on each resort.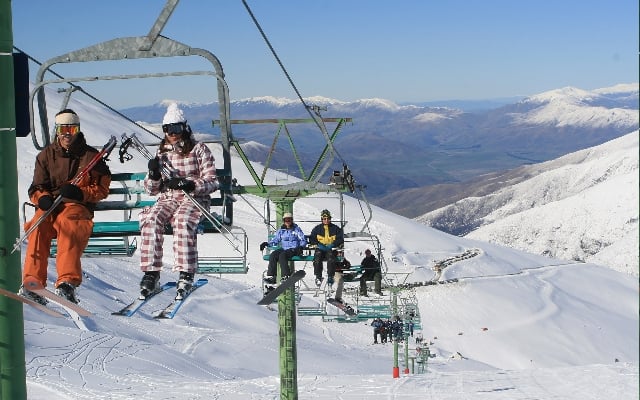 2. Hooker Valley Walk
Just a few hours' drive from Christchurch is an opportunity to experience one of the absolute best short walks in New Zealand. From Mount Cook Village, this 5.5-kilometre walk takes approximately 90 minutes and offers eye-catching views of Mueller Glacier, Hooker Lake and Aoraki/Mount Cook. The track starts from the White Horse Hill Campground and should take around 3 hours to complete. More info in our
Hooker Valley Walk article
.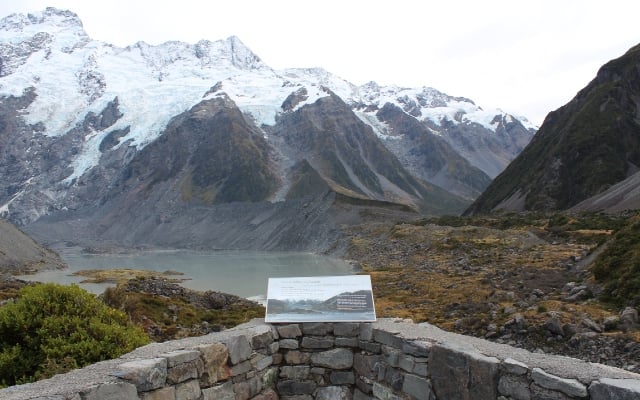 3. Scenic Flight
Get to appreciate the stunning alpine scenery during the winter months and its most majestic time. The best way to do this is to experience a scenic helicopter flight. From above see Mount Cook, Twizel, Fox and Franz Josef Glaciers. Or, take a scenic tour around Christchurch city. Check our
Flight Operators guide
for the options available.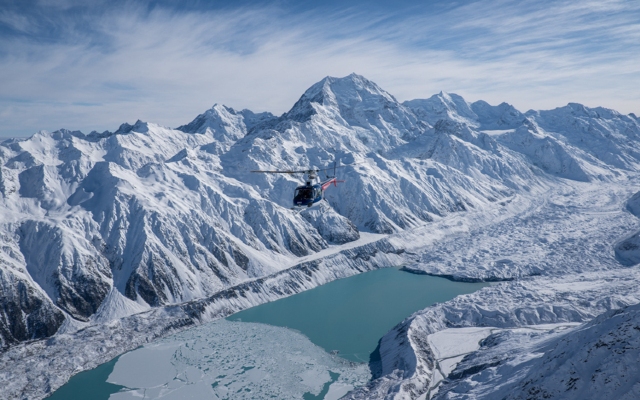 4. Tekapo Springs
Overlooking Lake Tekapo, the heart of the complex features five hot pools, built to resemble the natural wonders of the lakes beyond. The crystal-clear water (ranging from 28 to 39c) is sourced from the surrounding alpine springs and heated with recyclable energy. You can also visit the spa for massages, facials, pedicures, manicures and total body care. For the more energetic, check out the international size outdoor ice rink and the Snow Tube Park where you can hurl yourself down a 150-metre hill on an inflatable tube!
More info
.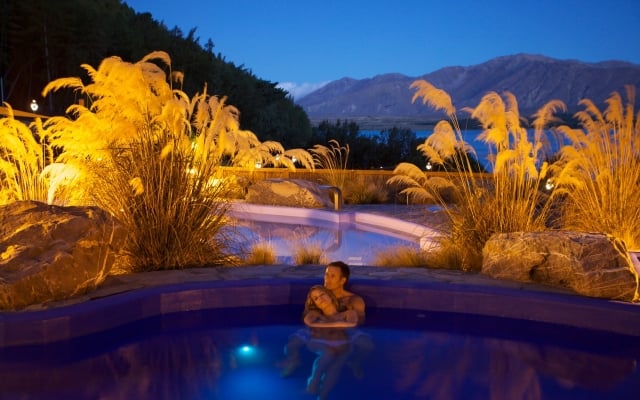 5. Tekapo Stargazing
The area around Lake Tekapo has been recognised and awarded 'Dark Sky Reserve' status by the International Dark Sky Association. Located at 1,029 metres on one of the towering peaks which surround Lake Tekapo at Mount John, is the Mt John University Observatory. 'Earth and Sky' offer nightly tours of the sky from the Observatory. Enjoy enchanting tales and unrivalled views of moon craters, the Milky Way, remote star clusters, planets, nebulae and all kinds of imagination-soaring experiences. More info in our '
Stargazing Article
'.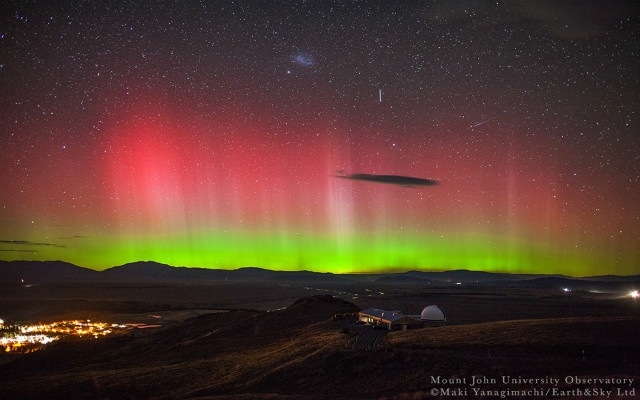 6. New Brighton Hot Pool
A short 15 minutes from Christchurch, He Puna Taimoana is the chance to soak in one of five luxurious hot pools overlooking New Brighton beach. You can also take advantage of the steam room and the sauna experience with its beachside views.
More info
.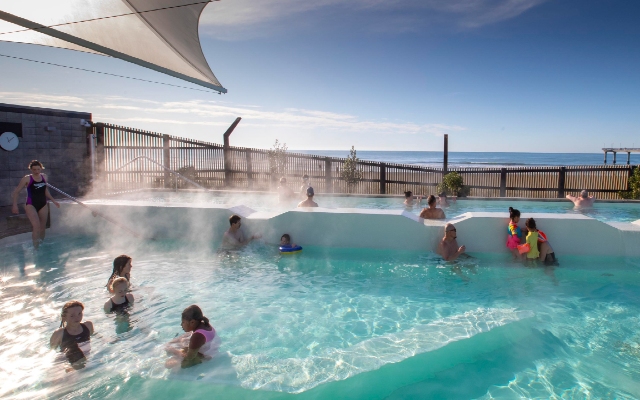 7. Hanmer Springs
Hanmer Springs is one of the South Island's premier alpine and spa destinations, thanks to the hot springs upon which the town is built. There are two major ski fields in the area: Mount Lyford and Hanmer Springs, both suited to skiers of intermediate level, though with some beginner slopes. The main draw card however, is the Thermal Pools & Spa complex, which houses an impressive collection of indoor and outdoor mineral and sulphur pools, together with a sauna and steam room, picnic area, cafe, day spa and water slides.
More info
.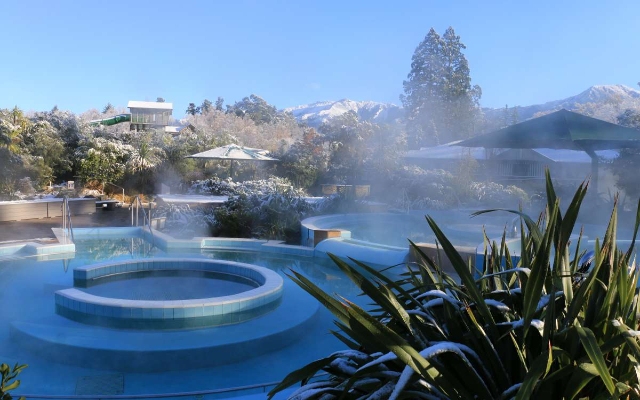 8. TranzAlpine Express
The TranzAlpine Express, regarded as one of the World's great train journeys, takes you on a breath-taking 223 km ride from Christchurch to Greymouth, the largest town on New Zealand's west coast. The train carriages feature panoramic side and ceiling windows to enjoy the Southern Alps scenery. Overhead HD video screens highlight points of interest, and each seat is equipped with headphones for you to enjoy a rolling GPS triggered commentary about your journey. The TranzAlpine Express departs daily from Christchurch train station at 8:15 am and arrives in Greymouth at 12:45 pm. More info in our '
TranzAlpine Express
' article.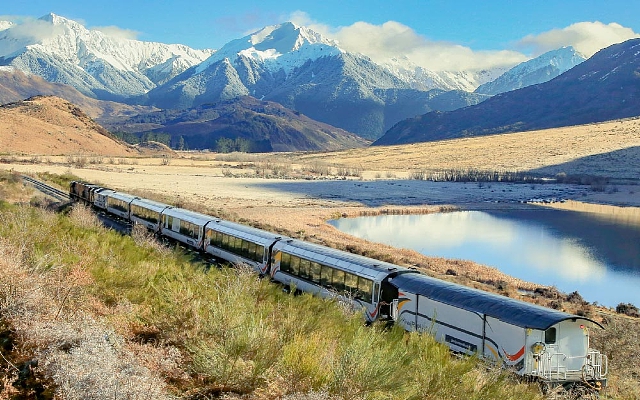 9. International Antarctic Centre
Located close to Christchurch Airport, visitors can immerse themselves in the snow and ice by sheltering in an ice cave, slide down an icy slope, brave the wind chill machine at -18 degrees Celsius and experience a simulated Antarctic Storm that occurs every hour. There are also plenty of displays covering the history of Antarctic exploration and what life is like at the modern-day scientific bases.
More info
.
10. Riverside Market
Warm up with a delightful range of food and drink options from the indoor Riverside Market. Overlooking the Avon River, this popular hangout is a fresh take on inner city life with a daily indoor market linking into a boutique network of retail, restaurants, cooking schools, cafes and bars.
More info.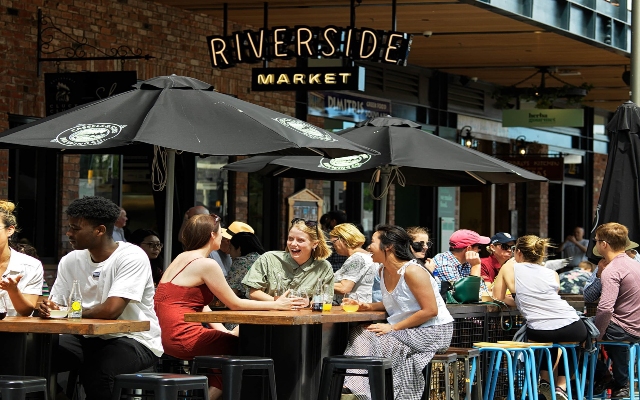 Discover More Christchurch Activities:
Check our
Christchurch Experiences
to find out the best activities and take advantage of the best prices.