Christchurch Bike Trails
Adventure Family Fun Hot List
10 Bike Trails In Christchurch Worth Riding
Christchurch offers a number of great biking trails that allow cyclists to appreciate the beautiful scenery of the city. Trails lead past beaches, forest and the beautiful parks of
Christchurch
.

1. North Hagley Park
This bike ride is ideal for the whole family. Enjoy cycling tree-lined avenues and gentle paths for great inner city riding. Seasonal colour changes with blossoms and changing of the leaves encourage repeat rides.
Difficulty: Easy.
Distance: 4.75km
Start: Various locations from
North Hagley Park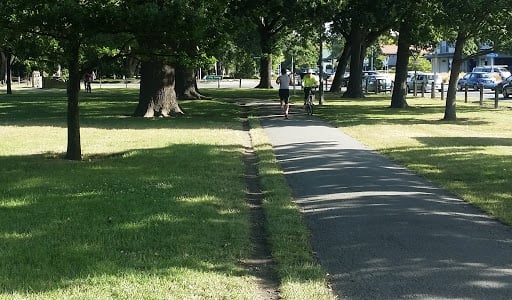 2. Bottle Lake Forest Park
A large number of cycling trails that traverse 1,000 hectares of pine forest from Burwood through to Spencer Park. Blue markers navigate the trails towards the coast and the return. The trails are mostly flat and take in the coastline although in winter they can be slippery. One of the best trails is the return 'Coastal ride to Spencer Park' ride. A great ride for the whole family.
Difficulty: Easy, mainly flat that features gentle climbs.
Distance: 10km return.
Start: Either Spencer Park, Spencerville or Bower Avenue, Parklands.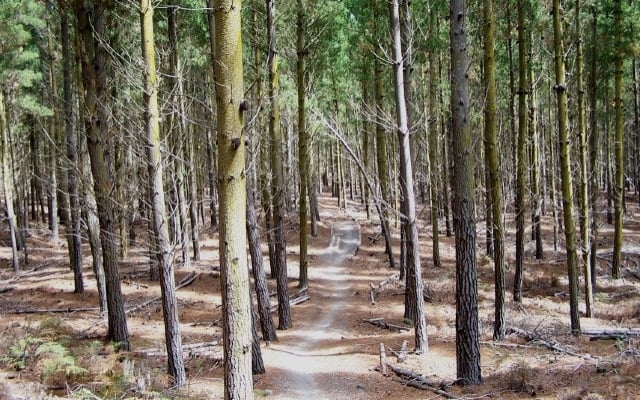 3. McLeans Forest
Located around 15 minutes' drive from Christchurch, McLeans Forest includes three bike loop trails for a combined 17 kilometres. The trails are suitable for all abilities. There is also over 11 kilometres of walking and running tracks.
10km Tresillian Loop - The main track starts/finishes at the car park.
5km Coringa Loop - Extra loop trail off the above Tresillian Loop.
2km River Loop - Starts from the Tresillian Loop, the easy ride takes you to the edge of the Waimakariri River.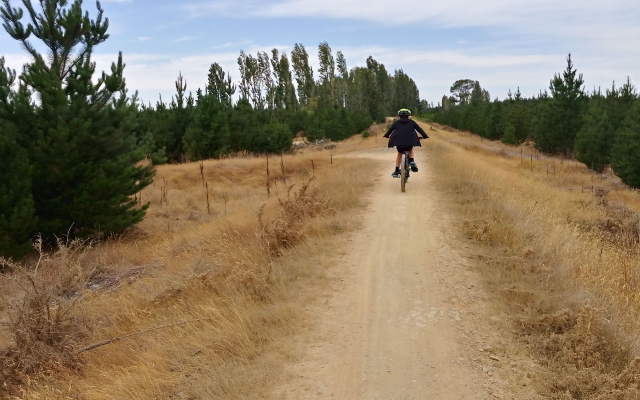 4. Bridle Path
This 'Port Hills' scenic ride begins at the base of the
Christchurch Gondola
in Heathcote Valley. The well maintained trail climbs up Summit Road and leads down into the harbour town of
Lyttelton
, passing by historical points of interest and information panels on the first settlers to Christchurch. Along Summit Road you'll gain stunning 360 degree views of the Canterbury Plains, Southern Alps and Lyttelton.
Difficulty: Moderate. Steep climbs and some narrow sections.
Distance: 3km
Start: Bridle Path Car Park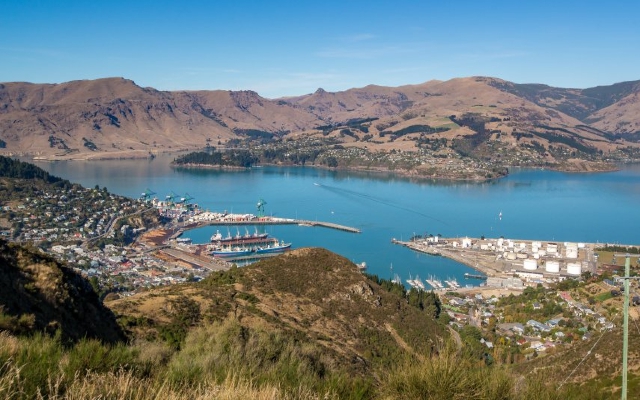 5. Bowenvale Valley
Heading out to the Port Hills area, this track starts at the end of Bowenvale Avenue. The track starts with a steep 2km climb up to
Victoria Park
and continues for another 800m to the Bowenvale Traverse which begins near Summit Road. It's then another 2.5km along the route that leads to the top of Huntsbury Track. Follow for 500m then turn off by the old airstrip and join the Bowenvale Downhill. It's then a ride back to Bowenvale Avenue.
Difficulty: Moderate
Distance: 8.6km
Start: At the end of Bowenvale Avenue, Port Hills Area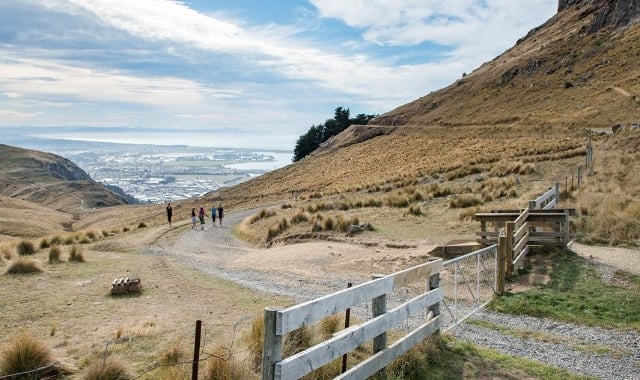 6. Huntsbury Track
Starting from the end of Huntsbury Avenue, this 4WD soon turns into gravel to make it a pleasant climb through open tussock and offering access to some more challenging tracks on the Crater Rim. The short trail ends on Summit Road.
Difficulty: Easy
Distance: 2.34km
Start: End of Huntsbury Avenue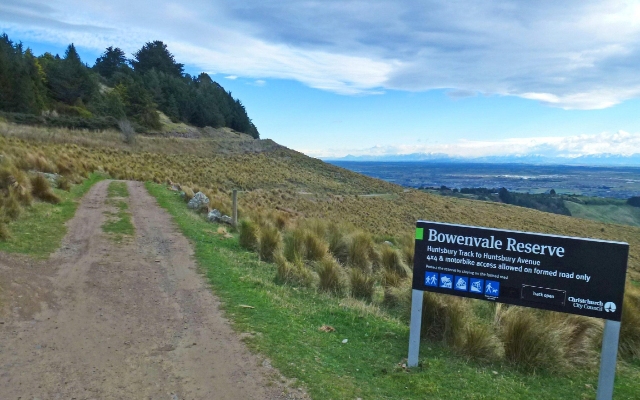 7. Kennedy's Bush Track to Worsleys Track
This trail starts at Kennedy's Bush Road and features narrow and steep parts. It's a slow climb up the 4WD track until you end up at Summit Road. The trail then follows Summit Road for 1.6km before taking a short road to the top of Worsleys Spur. You'll then experience a descent which then leads into a bumpy 4WD track before finishing at Worsleys Road. During the lambing months of August & September the track may be closed.
Difficulty: Moderate
Distance: 8.23km
Start: Kennedy's Bush Road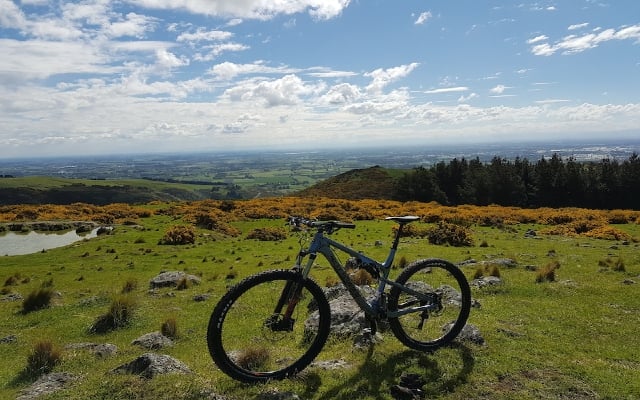 8. Marley Hill Track
The track starts from the top of Worsleys Road and climbs up 400m before turning right into the beginning of the 'Flying Nun' section. It's then a downhill ride over bedrock sections with wooden platforms. For the more experienced rider, there are alternate routes with high bermed corners and jumps dotted throughout.
Difficulty: Easy
Distance: 2.3km
Start: Top of Worsleys Road, Port Hills. Start at the Car Park at Sign of the Kiwi and cycle up Summit Road to the top of Worsleys Road.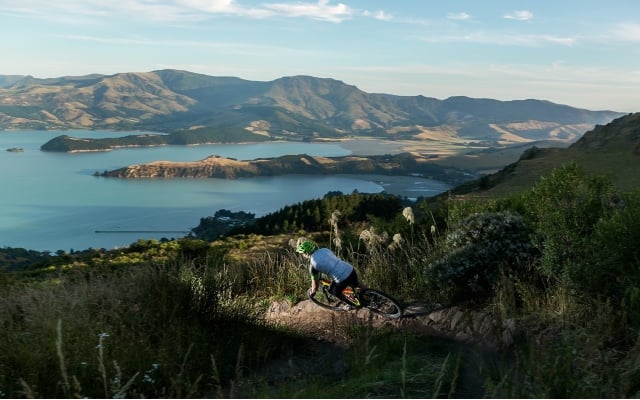 9. Mt Vernon Track
Starting at the car park at the base of Mt Vernon, off Summit Road, the moderate track features some fairly rough, narrow and steep sections that reward with lovely views of Lyttelton Harbour. The trail starts off with a short rocky section before levelling out and navigating beneath Mt Vernon. The later part is predominately on a well formed track until the end at Rapaki Track car park. To lengthen the ride, you can ride 6.5 km from the Sign of the Kiwi east along Summit Road until you reach Mt Vernon car park and the starting point of this trail.
Difficulty: Moderate
Distance: 2.4km
Start: Mt Vernon Car Park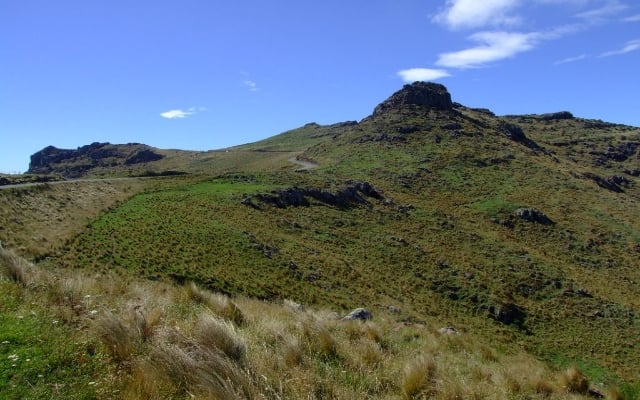 10. Rapaki Track
This is the most popular ride in the Port Hills Area. It's mostly flat with some gentle climbs and ideal for families. Ride up Rapaki Road to the start of the gravel section. Go through the gate and then enjoy a very gentle climb past Montgomery Spur Reserve to Summit Road.
Difficulty: Easy
Distance: 3.5km
Start: Junction of Rapaki Road and Centaurus Road, Port Hills. (Park on Centaurus Road or Vernon Terrace).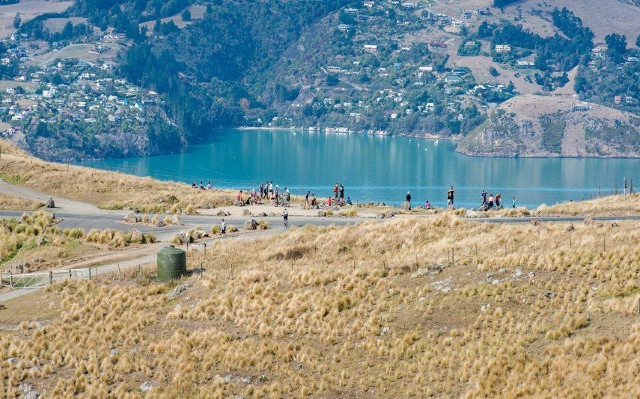 More Info:
Visit our '
Biking
' section for details on bike rentals and bike tour companies.
Check out the
Christchurch Council website
for details on cycling route maps, latest track status and more.