Christchurch To Akaroa Drive
Mini Break
Our guide to the 2 main driving routes to Akaroa from Christchurch
Situated around 90 minutes drive south-east of Christchurch, Akaroa lies in the circular Banks Peninsula that juts out from the South Island's central east coast.

The small harbour town enjoys a French influence which you'll see when visiting the shops and dining spots. It's also home to an abundance of marine life including from seals, dolphins, penguins, birds, and further out to sea, whales. So, there are a number of wildlife cruises, scuba diving and fishing expeditions to choose from out to the surrounding bays, along with opportunities for paddle boarding, windsurfing and kayaking within the closer confines of the harbour.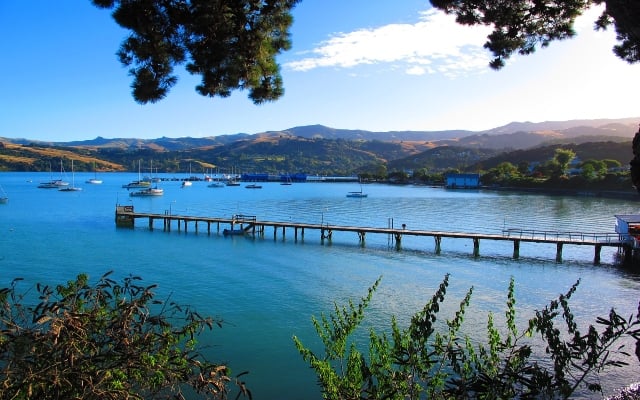 Christchurch To Akaroa Driving Routes:

If you need to hire a car, you can check our My Guide Car Hire Comparison Tool to search, compare and gain up to 70% savings. There are two ways to drive to Akaroa:
The Short Route is 81.4km / 1 hour 20 minutes
The Scenic Route is 81.5km / 1 hour 30 minutes via Governors Bay
1. The Short Route:
The most direct route travels all along State Highway 75 from Addington to Akaroa and should take around 1 hour 20 minutes. These are the notable highlights on the way.
Halswell Quarry
Just a few kilometres central Christchurch,
Halswell Quarry
is a good spot to stretch your legs and enjoy some fresh air. The quarry covers just over 60 hectares divided into a number of walks, landscaped gardens, and historic sites. A major feature of the quarry is the six sister gardens that represent the six cities with which Christchurch is linked.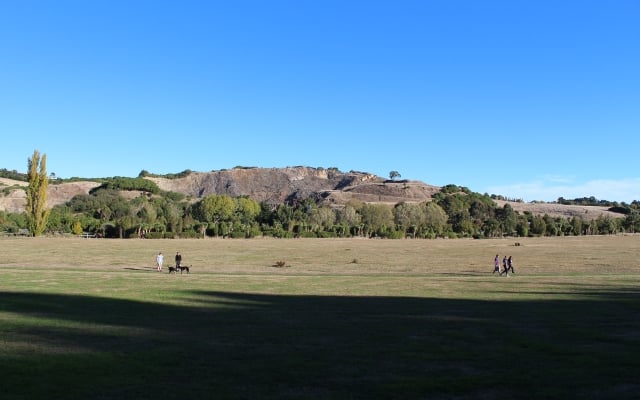 Little River
Little River
is a small and quirky historic settlement known with a number of arts and craft shops and home to a few historic sites including the rail station in the centre of the town. The Little River Cafe and Store is a great stop for a coffee and bite to eat. There are also a number of accommodation options.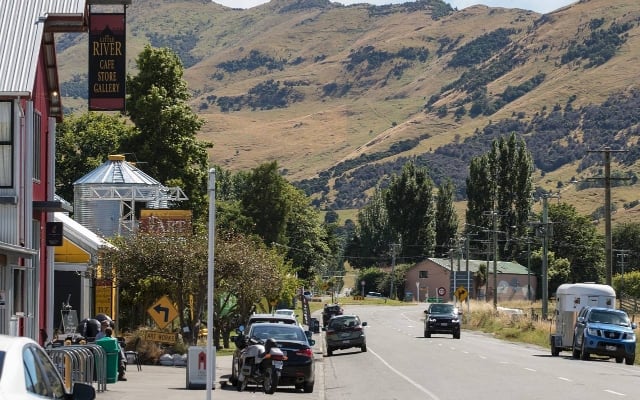 Tourist Drive Turn Off
Just before reaching the Hilltop Tavern, there is an option to turn off onto the 'Tourist Drive' route into Akaroa. The drive along 'Summit road' is a longer and much windier route. If you've had a long drive already or are driving a campervan, we'd suggest conitnuing along State Highway 75 which still offers great views. The photo below is Summit Road.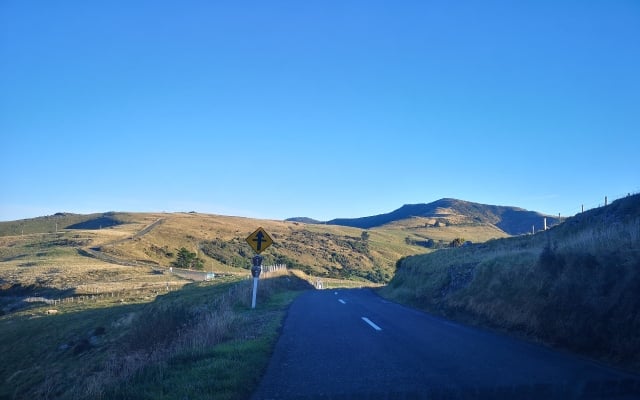 Hilltop Tavern
Just past the 'Tourist Drive' turn off. you can pull over at the
Hilltop Tavern
to take in the panoramic views of the Banks Peninsula. It is also a chance to grab some lunch with burgers, fish and chips and a wood fired pizza menu.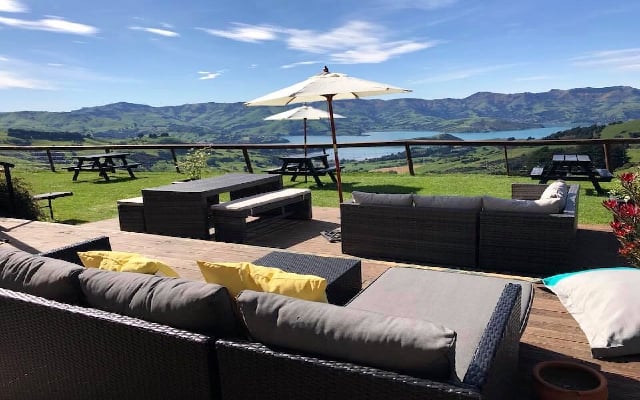 Barry's Bay Cheese Shop
Further along, another stop to consider is
Barry's Bay Cheese Shop
to sample local cheese that's been made by local people since 1895.
Onawe Pa Track
Starting on Onawe Flat Road, this is a 3.1km, 1 hour loop walk offers wonderful views of Akaroa and is a lovely bush walk. It is also a sacred/tapu Maori site and was the site of an invasion and massacre of the local tribe by Te Rauparaha in 1832. Avoid at high tide for full walk access. You can read more in our
Onawe Pa Track
guide.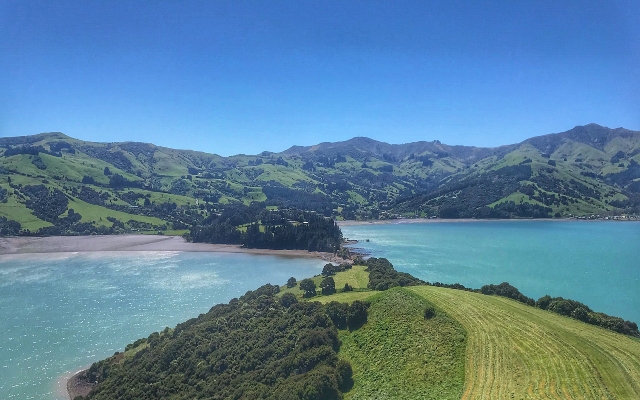 2. The Scenic Route:
From Christchurch, the scenic route is 10 minutes longer than the previous route outlined so should take 90 minutes. For this drive, head along State Highway 76 signposted to
Lyttelton
. The highlights before you join up to State Highway 75 (and those mentioned already) are as follows.
Firstly, you will pass by Cashmere scenic lookout and the popular
Victoria Park
. Panoramic views of the city, the Canterbury Plains, the Southern Alps, and Pegasus Bay add a picturesque element to any visit to the park and visitors should take time to enjoy the views on a sunny day.
Further along and turning off at Summit Road, you reach Sugarloaf Scenic Reserve which has a great short and steep track to the summit for outstanding views of Christchurch.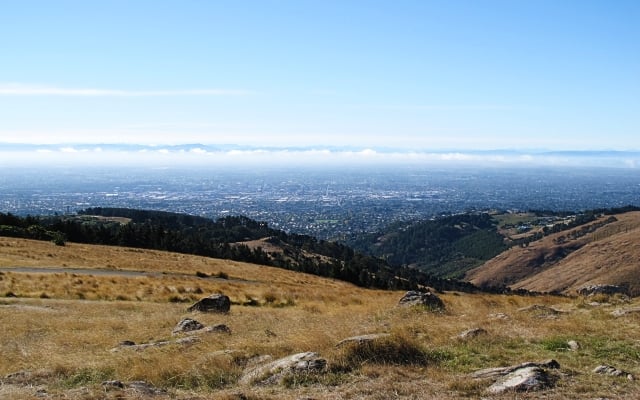 Back on State Highway 76, continue along onto Dyers Pass Road where you will enjoy a lovely scenic drive winding along to Governors Bay. Then take Teddington Road and Gebbies Pass Road to join up on State Highway 75 all the way to Akaroa.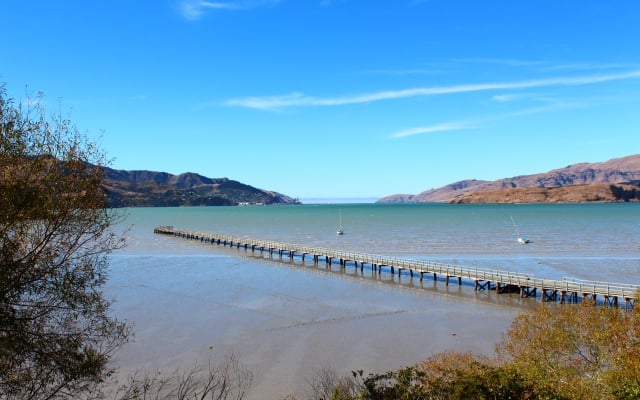 Christchurch To Akaroa By Bus:
Akaroa French Connection
offers a daily shuttle service between Akaroa and Christchurch. The bus departs Christchurch at 9.00am and returns at 4.00pm from Akaroa. As of March 2022, the price is NZD $55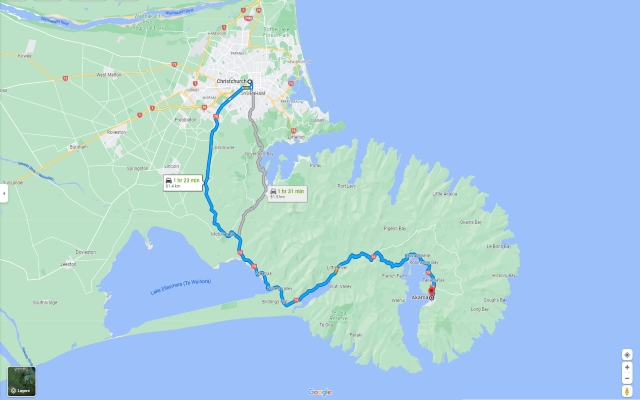 Car Hire:
Check our
My Guide Car Hire Comparison
Tool to search, compare and gain up to 70% savings.
More Info:
View more images from the drive in our Photo Gallery below.
Read our
Akaroa Guide
Check our
Akaroa Activities
section for things to do.